STRAWBERRY SPINACH SALAD WITH ROASTED
STRAWBERRY BALSAMIC VINAIGRETTE
This salad is always a favorite at our Easter dinner table. The strawberries are so fresh, and the assembled salad just shouts Spring! Try adding grilled chicken for a complete meal.
Serves 4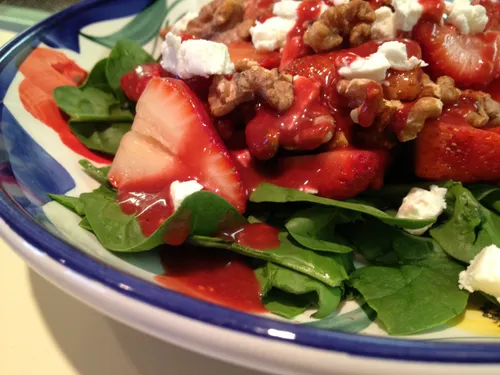 Spinach Salad Ingredients
4 cups organic spinach (can use mixed greens)
1 cup fresh, organic strawberries, sliced
1/4 red onion, thinly sliced
1/2 cup pecans or walnuts, rough chopped (can lightly roast)
1/3 cup feta cheese (optional)
Arrange spinach on 4 salad plates or bowls. Disperse the strawberries, red onion and feta among the four plates. Chill until ready to eat. Sprinkle on nuts before serving.
Roasted Strawberry Balsamic Vinaigrette Ingredients
1 cup organic strawberries (10-12 medium berries)
1/4 cup balsamic vinegar
1/4 cup unfiltered, cold-pressed, extra-virgin olive oil
1 tbsp Dijon mustard
1 clove garlic, minced
1/4 tsp Himalayan sea salt
1/4 tsp fresh-ground pepper
Stevia drops to taste (optional)
DIRECTION
Preheat your oven to 425 F°. Line a small baking sheet with parchment or foil, with edges folded up to retain juices from strawberries.
Remove all leaves and stems from strawberries. Place in the oven and roast for 15 to 20 minutes, or until caramelized.
Remove strawberries from oven, allowing to cool down for 5-10 minutes. Add to blender (ninja, bullet or immersion blender) with all other ingredients, making sure to capture all the strawberry juices from the pan. Blend until smooth. If you like your dressing a bit thinner, add additional olive oil until it is the consistency you desire.
Refrigerate and serve cold over the spinach salad.
Add grilled chicken for a complete dinner!