ROASTED BUTTERNUT SQUASH SOUP
On a cold afternoon or evening, soup is one of our most requested recipes. This soup is so hearty and by just changing the spices, you can create very different recipes with a variety of flavors. When adding this soup to the Genesis Health Solutions Weight Loss Program, 1-1/2 cups covers your vegetable and 1/2 your fat for one meal.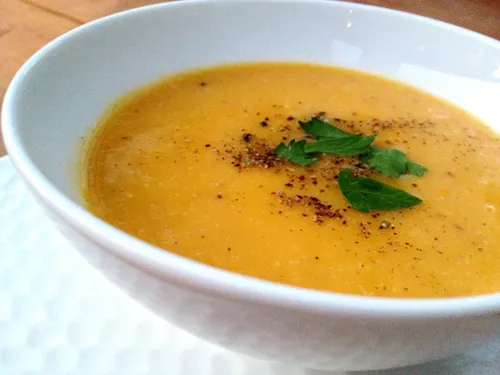 INGREDIENTS
1 large butternut squash, halved lengthwise and seeded
1 Tbs. organic coconut, avocado or macadamia nut oil
½ cup chopped shallot or onion
4 garlic cloves, minced (optional)
1/8-1/4 tsp. ground nutmeg OR 1/2 -1 tsp. cumin (to taste)
Himalayan sea salt & fresh ground pepper, to taste
3-4 cups organic chicken broth
2 Tbs. Kerry Gold butter
INSTRUCTIONS
Preheat oven to 425°F. Line a baking sheet with parchment paper. Brush oil on inside of squash and season with salt and pepper. Place squash cut side down on parchment and roast until tender – approximately 45-50 minutes. When cool enough to handle, scoop out the flesh into a bowl and discard the skin.
In a large soup pot, heat oil over medium heat. Add shallots or onion. Cook, stirring until soft and turning golden brown on edges. Add garlic, sautéing for about 1 minute. If you have an immersion blender, add squash, nutmeg (or cumin), salt and pepper to pot, along with 3 cups of chicken broth. If you like a thinner soup, add more broth. Stir in butter and serve.
If using a blender, add garlic, onions, squash nutmeg (or cumin), salt and pepper, along with 2 cups broth. Do not fill past maximum fill line. Blend well, then return contents to pan. Then add 1-2 more cups of broth to your liking, along with the butter. Heat and serve.