Turkey Zucchini Hash
What is the most frequently asked question after Thanksgiving… "What do I do with my leftover turkey?" This tasty recipe is adapted from fluffychixblogspot.com. It is so versatile in that you can swap out different vegetables to suit your taste, or even crack open an egg to serve on top or as a side for breakfast.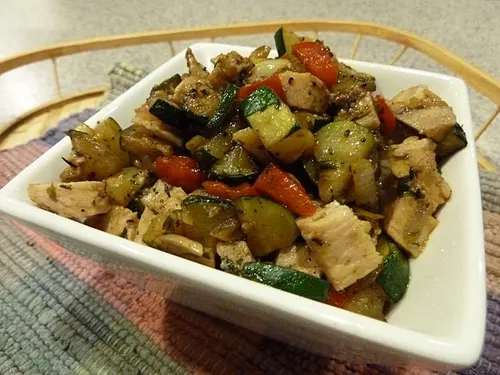 INGREDIENTS
2 Tbs. organic coconut, avocado or macadamia nut oil
1/2 cup onion, diced
1/2 cup organic red bell pepper, diced
2 cloves garlic, minced
1 cup sliced mushrooms
1/4 tsp. dried thyme or 3/4 tsp. fresh thyme
2 cups organic zucchini*
2 cups cubed turkey
2 Tbs. Kerry Gold butter
1 Tbs. Worcestershire sauce **
Himalayan sea salt & fresh ground pepper, to taste
1/8 tsp. red pepper flakes
1/8 tsp. paprika
INSTRUCTIONS
Heat heavy skillet over medium-high heat. Add oil, chopped onion, red bell pepper and garlic, sautéing for one minute. Add mushrooms, thyme, and a pinch of salt, cooking about 3 minutes or until mushrooms begin to soften. Add cubed zucchini and sauté until zucchini is al dente and golden. Remove veggies from pan and keep warm.
Add butter and Worcestershire sauce to the pan. When butter has melted and pan is hot, add turkey and season with salt and pepper. The key here is heating the turkey quickly in a hot pan for a very short time. That keeps the leftover taste at bay.
Add the veggies back to the pan, mix and serve.
*Substitute broccoli, cauliflower or eggplant for the red pepper or zucchini for variety. May need to adjust cooking time for tenderness.
**We offer a Worcestershire Sauce substitute that doesn't contain molasses or sugar. The amount in one Tablespoon will be negligible for the entire dish, should you choose to use it. Substitute 1 Tbs. Worcestershire with the following: Mix together 2 tsp. Tamari (gluten-free soy sauce), ¼ tsp. lemon juice, 1 drop stevia, dash hot pepper sauce