STUFFED PEPPERS
Stuffed Peppers are a classic favorite that are perfect for the fall and winter months ahead. They are an easy meal to prepare that provides great leftover meals during the week and can also be made ahead of time or frozen. Stuffed peppers are even better the next day. You can vary the ingredients to bring variety to your menu, too. Use ground beef, turkey or chicken or cauliflower rice instead of zucchini. You can omit the mushrooms if you're not a fan and add more zucchini or cauliflower rice or mix both. This recipe makes 4 servings. One serving covers your protein, vegetable and ½ a serving of fat for one meal.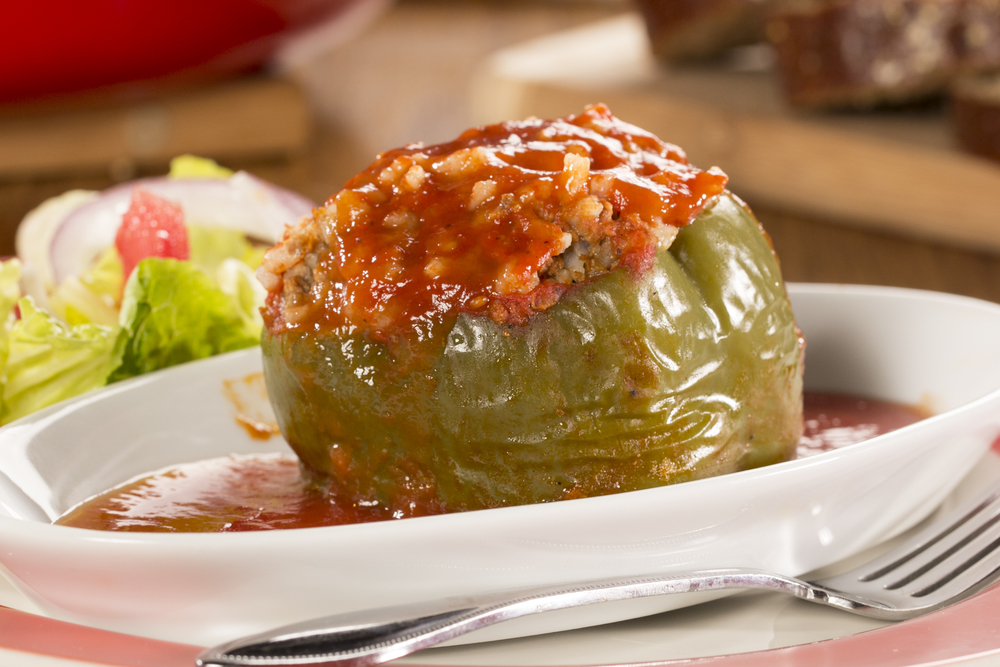 INGREDIENTS
1 Tbsp virgin coconut or avocado oil
1 lb. grass-fed ground beef
1 medium onion, chopped
4 organic Bell Peppers (red, green, orange or yellow)
2 cloves garlic, minced
1 organic zucchini, finely chopped or riced
8 oz. mushrooms, chopped
Himalayan sea salt & black pepper, to taste
1 cup Muir Glen Organic Marinara (or brand with no added sugar) plus extra for top
INSTRUCTIONS
Preheat oven to 350°F. Cut a thin slice from the stem end of each Bell pepper to remove the top of pepper. Remove the seeds and membranes. (If you have difficulty getting them to stand straight in the pan, you can cut a thin slice from the bottom, too.)
Heat oil in large skillet over medium-high heat. Add the ground beef and onion, cooking until browned. Add the mushrooms, garlic and zucchini or cauliflower rice. Sauté 6-8 minutes or until tender. Season with salt & pepper. Stir in one cup of marinara sauce and mix well.
Place Bell peppers cut side up in a medium-sized baking dish. Evenly divide the beef mixture and spoon it into the peppers. Spoon additional marinara over each pepper.
Pour a small amount of water into the bottom of the baking dish. Cover with foil and bake for 30 minutes. Uncover and bake until the peppers are soft – approximately 15-20 minutes.
(If you're on the Maintenance Plan, feel free to add some shredded mozzarella or pepper jack cheese after you uncover the peppers.)