(serves 4)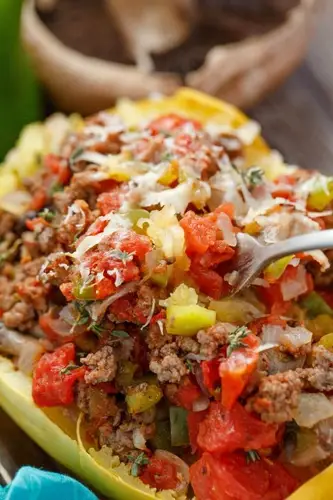 Ingredients
3 lbs. spaghetti squash
2 tsp. organic coconut or grapeseed oil - divided
1 lb. grass-fed ground beef
3 garlic cloves, minced
8 oz. mushrooms, sliced
1 medium onion, diced
1-28 oz. can diced tomatoes, drained
1 organic green pepper, diced
Fresh ground black pepper to taste
½ tsp. dried thyme
1 tsp. dried oregano
¼ tsp. cayenne (optional)
Instructions
Preheat oven to 400°F. Cut spaghetti squash in half and remove seeds. Pierce squash several times with a knife, brush with 1 tsp oil and place on a baking sheet, cut side up. Bake for approx. 45 minutes or until squash is tender. Using a fork, scrape the inside of the squash to create "noodles" – leaving the squash in the shell.
While the squash is roasting, heat a large stainless-steel pan to medium-high heat. Add 1 tsp of oil, then add ground beef, garlic, onions, and mushrooms, cooking until meat is browned. Mix in tomatoes, green pepper, salt and pepper, thyme, oregano and cayenne, simmering for 10 minutes.
Add meat mixture to spaghetti squash. If you aren't eating dairy, you can always provide parmesan cheese as a topping for others!