SOUTHERN FRIED CINNAMON APPLES
Instead of traditional apple pie, you can enjoy the all delicious flavors of this favorite dessert, without the added sugars and high-glycemic carbs. Adapted from Allrecipes.com, this recipe is very simple and won't leave you feeling deprived and covers your fruit and fat.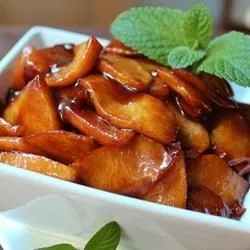 INGREDIENTS
½ cup (1 8-oz. stick) Kerry Gold butter
4 organic Granny Smith apples, peeled, cored and sliced
1/4-1/2 cup Swerve, to taste, or small amount of stevia to taste
1 Tbs. ground cinnamon, to taste (can add more to taste)
INSTRUCTIONS
Melt butter in a large skillet over medium heat.
Stir in sweetener and cinnamon into the melted butter.
Add apples and cook until they begin to soften, being careful not to overcook until mushy – approximately 5-8 minutes.