RATATOUILLE
There are so many different ways to make Ratatouille, that the exact amounts of each vegetable isn't important. It is basically a French vegetable stew that puts to use all the wonderful summer vegetables that are being harvested.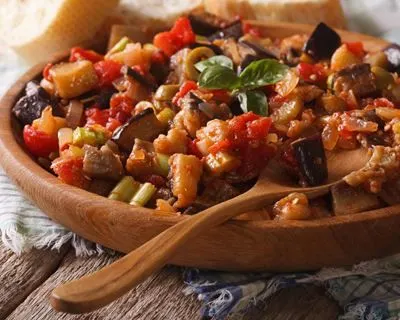 Ingredients
Organic, unrefined, Coconut, or Avocado Oil
Himalayan sea salt, to taste
Crushed red pepper, to taste or optional
1 large onion, -small dice
4 cloves garlic, finely chopped
3-4 sprigs fresh thyme
3 large tomatoes - medium dice
1 red pepper, seeded – medium dice
1 medium eggplant – medium dice
2 small summer squash – medium dice
2 small zucchini – medium dice
6 large fresh basil leaves, rolled and cut into ribbons
Instructions
Bring a large pan to medium heat, adding a couple of Tbs. of oil and the onions. Sauté 5-7 minutes until soft. Add the garlic and cook for 2-3 minutes. You don't want them to brown, but to soften.
Add in the tomatoes, ½ cup of filtered water, thyme and crushed red pepper (to taste) and season with salt. Cook until the tomatoes have broken down, about 15-20 minutes.
Add the peppers, cooking for 5 minutes. Then add the eggplant, summer squash and zucchini. Season again with salt and cook 15-20 minutes, or until soft.
When finished cooking, stir in the fresh basil and voila!