OMELET MUFFINS
This is a great idea for breakfast variety once on maintenance.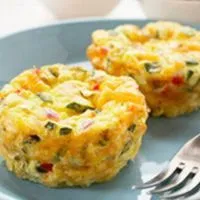 Makes 6 Muffins

Ingredients
6 eggs
1/2 cup cooked meat
1/2 drained organic chunky salsa or chopped veggies
1/4 tsp sea salt
1/8 tsp black pepper
2-3 Tbsp organic Greek yogurt or heavy cream
Directions
Preheat oven to 350⁰F degrees. Grease muffin tins with coconut or avocado oil. Whisk the eggs. Stir in the rest of the ingredients. Spoon into muffin cups. Bake for 18-20 minutes or until toothpick comes out clean.