SPICY LEMON & GARLIC
ROASTED BROCCOLI

This is a very quick and easy recipe with a lot of flavor. You can leave the lemon and basil out and finish with a little touch of toasted sesame oil for a totally different dish. One serving equals one cup cooked vegetable and covers your vegetable and 1/2 fat for one meal.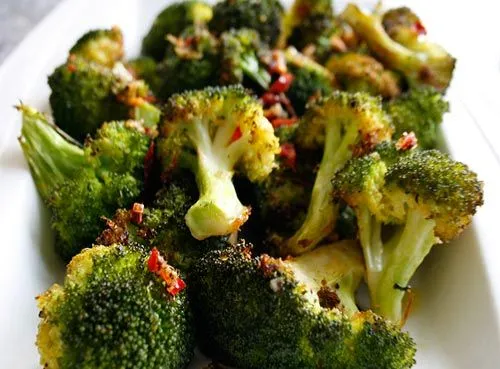 Ingredients
1-1/2 lbs broccoli florets
¼ cup avocado oil
2 Tbs. chopped fresh basil
1 Tbs. minced garlic
½ tsp. crushed red pepper (or to taste)
½ organic lemon, juiced and zest (optional)
Pink Himalayan sea salt and fresh-ground pepper, to taste
Instructions
Preheat oven to 400°F. Lay broccoli florets onto a foil-lined baking sheet or baking stoneware. Add remaining ingredients and toss to coat well.
Roast for 20-30 minutes, depending on size of broccoli pieces, turning halfway through.