EASY SHEPHERD'S PIE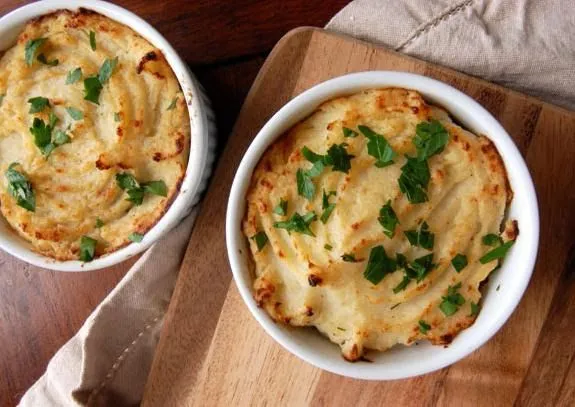 Ingredients
Top Layer
1 large head organic cauliflower, cut into florets
4 Tbs. grass-fed butter, melted
1 tsp. spicy mustard
Sea salt and freshly ground pepper to taste
Optional: fresh parsley to garnish
Bottom Layer
1 Tbs. organic, unrefined coconut oil
½ large onion, diced
2 small tomatoes, diced
2 celery stalks, diced
1 lb. 100% grass-fed ground beef
2 Tbs. unsweetened tomato paste
1 tsp. dry mustard
¼ tsp. cinnamon
1/8 tsp. ground clove
Sea salt and freshly ground pepper to taste
1 Cup Homemade Broth
Simmer the other ½ of the large onion and 2 celery stalks for 20 minutes
Directions
Place the cauliflower florets in a steamer insert in large pot with a couple of inches of water. Cover and steam for 12-14 minutes, until tender. Remove steamer insert, drain pot and put the cauliflower into the pot.
Add the butter, mustard, salt and pepper to the cauliflower. Using an immersion blender or food processor, combine the ingredients until smooth. (If you don't have either, you can use a potato masher, but it's a bit more work!) Set aside.
Heat the coconut oil in a large skillet over medium heat. Add the onion, celery and tomatoes, sautéing for 5 minutes. Add in ground beef, breaking it into small chunks and cook until brown.
Stir the tomato paste, broth and remaining spices into the meat mixture. Season to taste with sea salt and pepper. Simmer until most of the liquid has evaporated, about 8 minutes, stirring occasionally.
Distribute the meat mixture evenly among four ramekins and spread the pureed cauliflower on top. Use a fork to create texture in the cauliflower and drizzle with melted butter.
Place under the broiler for 5-7 minutes (watch closely) until the top turn golden brown. Sprinkle with fresh parsley and serve.