STRAWBERRY TRIFLE
This is a great recipe from Wholesome Yum, and it's just in time for Easter and fresh Spring strawberries! This recipe has 16 servings and is best used while on maintenance or for special occasions.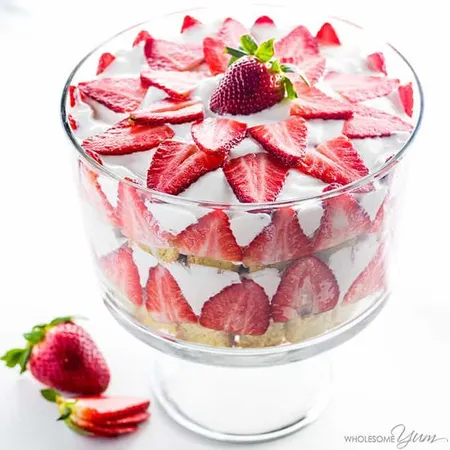 INGREDIENTS
Cake layer
2 cups almond flour/meal
1/3 cup coconut flour
1/3 cup erythritol (can use granulated or powdered)
2 tsp. baking powder (gluten free)
6 large organic, pastured eggs
1/3 cup virgin coconut oil (measure solid, then melted)
1 tsp. pure vanilla extract (no corn syrup added)
Cream layer
1-1/2 cups organic heavy cream
1-1/2 cups sour cream
1/3 cup powdered erythritol or to taste (grind granulated in coffee grinder or food processor)
1/2 tsp. pure vanilla extract
Strawberry layer
1-1/2 lb. organic strawberries, sliced
DIRECTIONS
Cake layer
Preheat oven to 350°F. Line bottom of 9" round or 8" square pan with parchment paper.
In a large bowl, mix together the almond flour, coconut flour, erythritol and baking powder
Stir in the eggs. Whisk together the melted coconut oil and vanilla extract then stir that in, as well. Mix until a dough forms.
Transfer the dough to the lined pan and press in evenly. Bake for 25-30 minutes, until the top is golden and firm.
Let the cake cool to room temperature, then cut into 1" cubes.
Cream layer
Meanwhile, make the cream layer. Use a hand mixer to beat the heavy cream until stiff peaks form.
Add sour cream, powdered erythritol and vanilla. Beat again until well incorporated.
ASSEMBLY
Arrange half of the cake cubes at the bottom of a trifle bowl.
Arrange 1/2 of the strawberries over the cake layer, including the top and sides against the edge of the bowl.
Top the trifle with half of the cream mixture
Repeat layers again, with the cream being last. You can reserve some strawberries to use for garnish.
Cover and chill for 2-3 hours.