Spanish Cauliflower Rice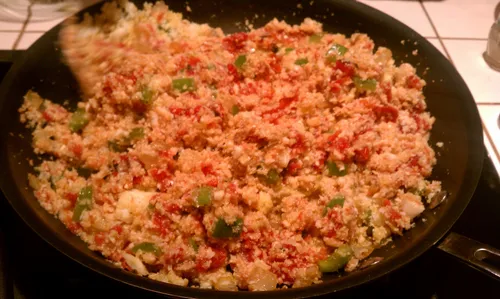 Ingredients
16 ounces cauliflower, riced
1 Tbs. coconut or avocado oil
1/3 cup organic tomato sauce
1/2 cup diced green pepper (optional)
1/2 cup diced onion (optional)
1/2 cup diced tomato (optional)
1/4 cup organic chicken or vegetable broth
1 tsp minced garlic
1 tsp onion powder
1/2 tsp ground cumin
1/2 tsp sea salt
1/4 tsp fresh-ground black pepper
1 Tbsp fresh lime juice
1/4 cup cilantro, chopped (optional)
Instructions
Cut cauliflower into florets and place in a food processor. Pulse until it is the size of rice. (Can use a cheese grater, if you don't have a food processor.)
Heat oil over medium heat in a large skillet. Add cauliflower, green pepper and onion, sautéing for 5-7 minutes.
Stir in tomato sauce, tomatoes, broth, garlic, onion powder, cumin, sea salt and black pepper. Cover and cook for 5 to 10 more minutes, until tender.
Click here to print the recipe!