KETO PUMPKIN SNICKERDOODLE COOKIES

This recipe is posted on one of my favorite ketogenic websites, ruled.me. It is a nice, soft cookie for the holidays that is better the next day or two and kept refrigerated. This recipe contains erythritol, a sugar alcohol (no ethanol, so not like alcoholic beverages), which you can easily find at health food stores and some grocery stores in the health food section. It does not raise glucose or insulin levels and is very easy to digest. The recipe makes a total of 15 cookies and is best used for maintenance or special treats.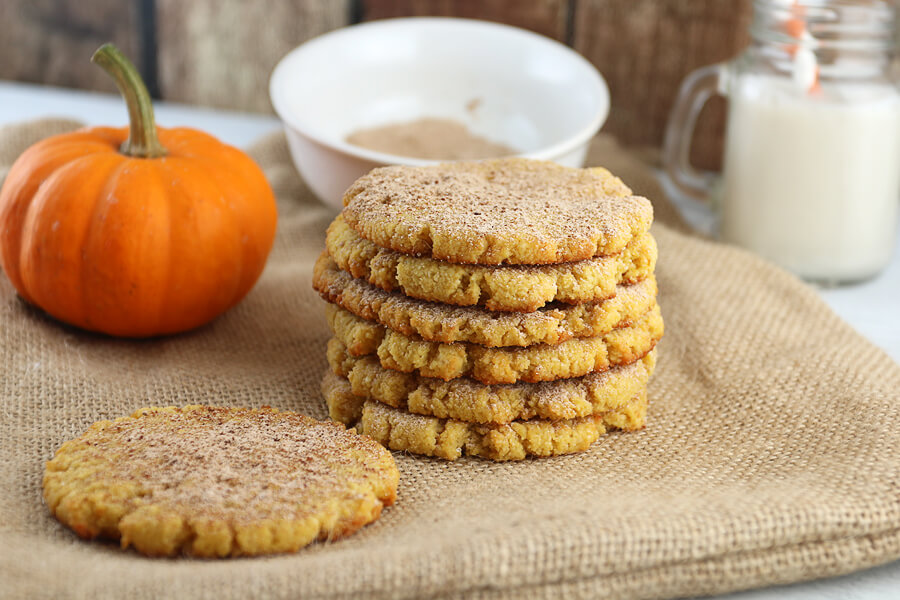 by Ruled.me
INGREDIENTS
1-1/2 cups almond flour
1/2 tsp. baking powder
1/4 cup erythritol
1/4 cup salted butter, softened
1/2 cup pumpkin puree
1 tsp. vanilla extract
1 large egg
25 drops liquid stevia
(possible 2-3 Tbsp. coconut flour)
TOPPING
1 tsp. pumpkin pie spice
2 tsp. erythritol
DIRECTIONS
Preheat oven to 350F. Combine almond flour, baking powder and erythritol in a small bowl and mix. In a medium bowl combine the butter, pumpkin, vanilla, egg and stevia. Mix dry ingredients into the wet until a pasty dough is formed. (I have found it necessary to add 2-3 Tbsp. of coconut flour to make this recipe form a dough. It can tend to be "wet" or loose, depending on the water content in different cans of pumpkin.) Roll the dough into 15 balls, place on a silpat or parchment paper, and flatten with your hand. Bake 12-13 minutes.
While cookies are baking, combine the erythritol and pumpkin pie spice in a small dish. Once the cookies are done, sprinkle on top. Let cookies cool slightly on cookie sheet, then transfer when set to a wire rack to cool completely. (Per above, best refrigerated and next day)