EASY PUMPKIN FUDGE
This recipe is courtesy of lowcarbyum.com. You can find coconut butter in the healthy food section of many grocery stores or at health food stores. It is not the same as coconut oil. Coconut butter has its own natural sweetness and great fiber. It is absolutely delicious! It is best treated for maintenance or for a special occasion.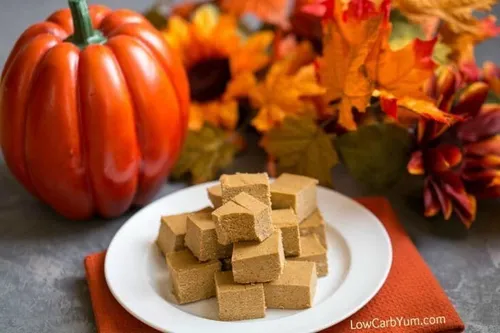 INGREDIENTS
1 cup canned pumpkin
2/3 cup coconut butter - also called coconut spread
1/2 tsp. liquid stevia
2 Tbs. coconut flour
1 Tbs. coconut oil
1 tsp. pure vanilla
1 tsp. cinnamon
1/2 ground ginger
1/4 tsp. nutmeg
1/8 ground cloves
dash of sea salt
INSTRUCTIONS
Line a loaf pan (8x4) with parchment paper.
Stir all ingredients into a small pan, melting over medium-low heat until well combined. Spread mixture into loaf pan and refrigerate until set. Keep stored in fridge.
Cut into 20 squares.