PUMPKIN CUSTARD
This is a great pumpkin recipe for the Fall season! The custard tastes just like traditional pumpkin pie without the crust, but healthier. The recipe is courtesy of kulinarian.com. On the weight loss plan, this recipe (at 1 cup) is one serving of vegetable, one serving of fat and 7 grams of fiber.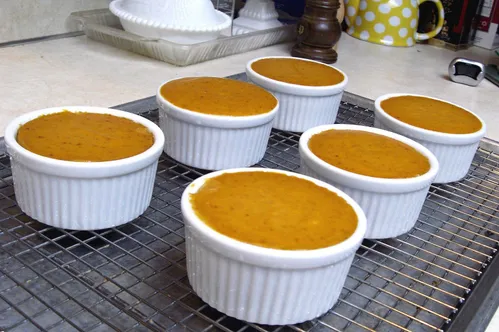 INGREDIENTS
15 oz. canned pumpkin
2 tsp. cinnamon
1/2 tsp. ground ginger
1/4 tsp. nutmeg
1/8 tsp. salt
4 pastured organic eggs
2 tsp. vanilla
7 Tbs. Swerve granulated sweetener
15 oz. can full fat coconut milk (not boxed milk)
INSTRUCTIONS
Preheat oven to 350°F. Combine pumpkin, spices and salt in large bowl.
In medium bowl whisk eggs, Swerve, vanilla and coconut milk together well. Pour egg mixture into pumpkin mixture and mix well.
Pour into 6 ramekins or one ceramic baking dish. Place ramekins/baking dish into a large rectangular baking pan and add enough water to come up to 2" around the ramekins/baking dish.
Bake for 60 minutes or until knife inserted into center of the custard comes out clean.
Allow to cool and place in fridge for one hour.