This recipe is a favorite with many of our clients. It's so hearty and delicious… a perfect meal for those cool fall and winter nights! You won't even miss the beans in this satisfying, low-glycemic dish. Hiding the vegetables in the chili makes this recipe even more friendly for picky eaters! This recipe serves 6 and covers protein and vegetables for one meal.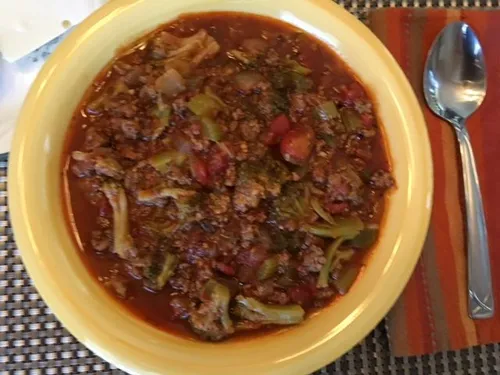 Ingredients

1.5 lbs. grass-fed ground beef
1 Tbs. organic coconut, avocado or macadamia nut oil
1 large onion, diced
1 green pepper, diced (organic)
2 stalks of celery, diced (organic)
1-2 cloves minced garlic, depending on preference
1 tsp. sea salt
2 tsp. chili powder
2 tsp. cumin
2 tsp. oregano
1 can organic tomato sauce
1 can organic diced tomatoes and 1 small can green chilies or 1 can Rotel tomatoes
1 16 oz. bag frozen broccoli florets
2 zucchini, quartered and sliced
water (if you need to add liquid)
crushed red pepper to taste (optional)
Directions
In a large pot, brown the ground beef in oil. Mix in the onion, green pepper, celery and garlic and cook about 5 minutes. Add spices and mix. Add tomatoes sauce and diced tomatoes and simmer for about 20 minutes. If the chili is too thick, add a 1/2 cup of water at a time to think it out. Add broccoli and zucchini, cooking for another 15-20 minutes or until tender.
Serve with shredded raw cheddar cheese (on maintenance) and diced fresh avocado. Enjoy!