ONE POT MEXICAN BEEF AND VEGETABLES
This is another one of my favorite one pot meals. Mexican food is so delicious and making rice out of the zucchini cuts the carb count significantly. It is also very filling. It makes a great lunch leftover, too, as all the flavors come together even better the next day. Even if you're not a fan of peppers, they take on the flavor of the spices, so it's a great way to get a variety of veggies.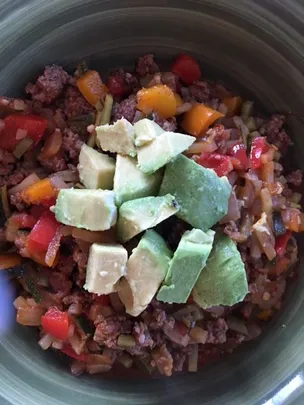 Ingredients
1 Pound grass-fed ground beef
3 Medium organic zucchini
1 Yellow onion, diced
1 Large organic red-bell pepper
1 Large organic yellow or orange bell pepper
1 Small jalapeno, finely diced (optional)
1 Tbs. organic, unrefined coconut oil
1 Tsp. Himalayan sea salt
2 Tsp. cumin
1 Tsp. paprika
1 Tsp. garlic powder
½ Tsp cayenne pepper
Crushed red pepper to taste (optional)
1 Cup organic salsa (without sugar)
½ Cup filtered water
Avocado and shredded lettuce for topping
Directions
Using a spiralizer or mandolin with a thin julienne attachment, make thin noodles of the zucchini. Place them on a cutting board and rough chop the noodles until they are rice-sized pieces. Set aside.
Heat a large stainless steel pan over medium heat. Add the ground beef and brown, breaking it up with a spoon. When lightly browned, add in the onion, peppers and jalapeno and mix.
Add seasonings, crushed red pepper and zucchini rice and cook for 2-3 minutes, stirring often.
Mix in the salsa and water, stir, and cover. Cook until vegetables are softened and most of the water is absorbed, about 7-10 minutes.
Serve topped with shredded lettuce and diced avocado.