CAULIFLOWER MASHED FAUX-TATOES
Mashed cauliflower is a great substitute for mashed potatoes. They have a similar look and feel, and the cauliflower taste is extremely mild. Don't be afraid to give this recipe a try if you haven't liked cauliflower in the past. You may end up with a new favorite and a healthier alternative to high-glycemic potatoes. One cup covers your vegetable and fat serving.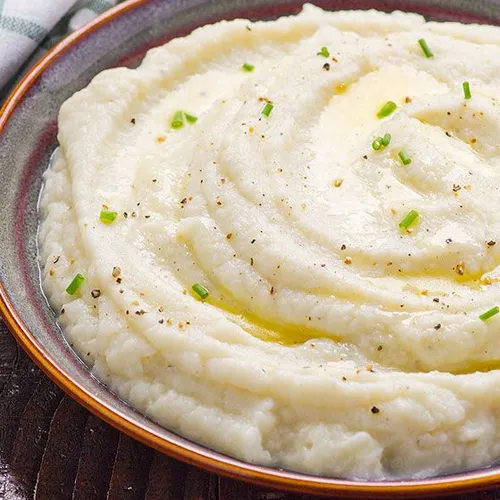 Ingredients
1 medium-large head organic cauliflower
Sea salt and freshly-ground pepper, to taste
4 Tbs. Kerry Gold butter
1-2 Tbs. heavy whipping cream
Chopped chives for garnish
¼-½ tsp. garlic powder (optional for added flavor)
Fresh grated parmesan cheese (optional on maintenance plan)
INSTRUCTIONS
Break the cauliflower up into florets, cutting large florets in half to create consistency of the pieces. Steam until tender when pierced with a knife (approx. 20 minutes).
Place cauliflower and butter in a food processor, or use a hand mixer, and blend until smooth and creamy. Season with salt and pepper (and garlic powder, if desired) and add cream.
Sprinkle with chives and parmesan (if on maintenance plan).